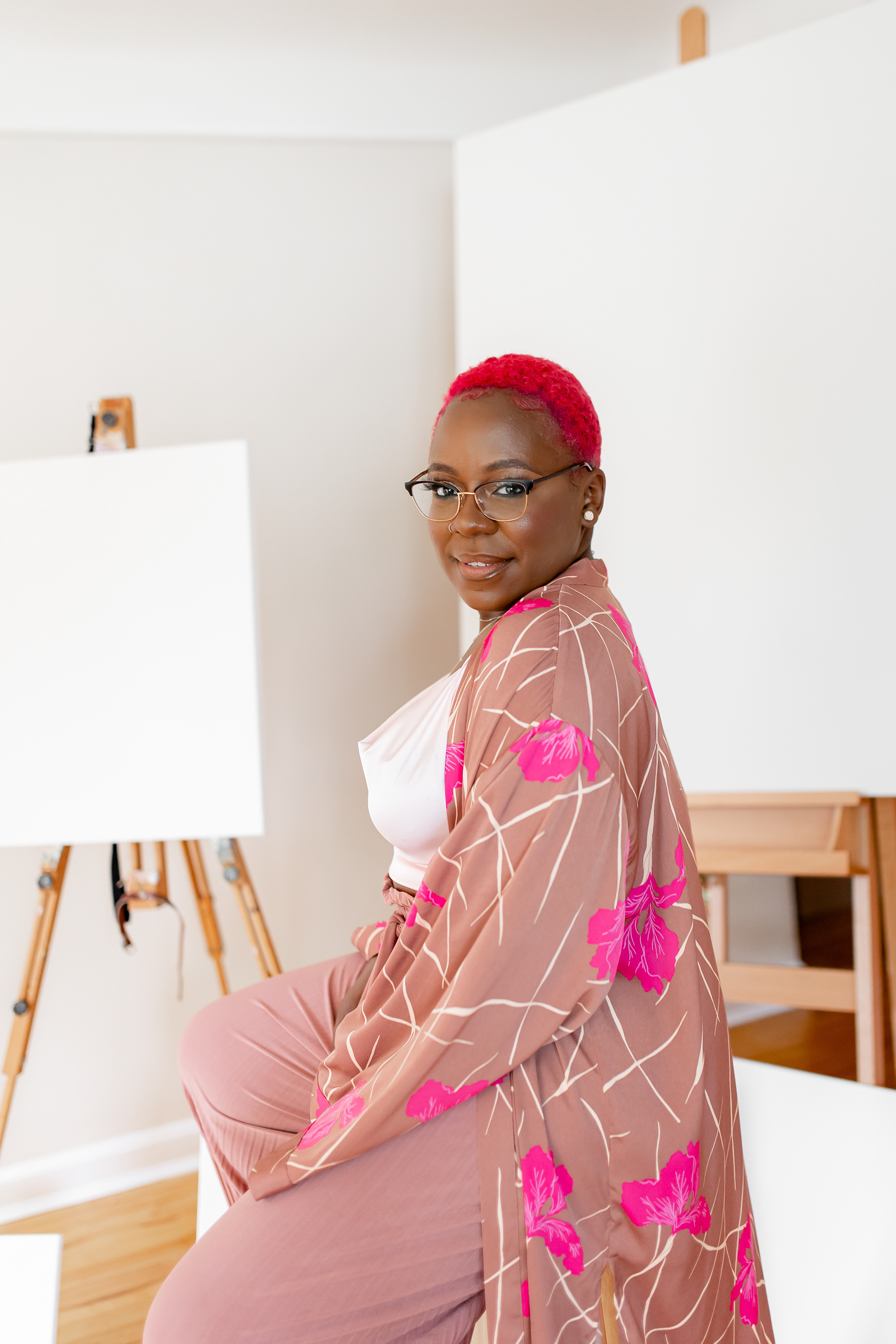 Asha is a self-educated artist and creator residing in Cincinnati, Ohio. Asha wields her personal identity as a queer, African American woman within her practice, exploring social justice themes, such as race, sexuality, and mental health. While her primary medium is oil paint, Asha also engages in multimedia projects both which strive to unite diverse populations through shared experiences and common narratives, facilitate understanding and promote change.
Asha remembers drawing and painting frequently in her childhood, as a method of creative and emotional self-expression. Though her roots were grounded in Cleveland, Asha resettled in Cincinnati, ultimately graduating from the University of Cincinnati with her bachelor's degree in communications, a minor in women's and gender studies, as well as a certificate in public relations. Following her undergraduate career, she pursued a profession in banking, quickly ascending the corporate ladder. Despite finding success in her career, Asha felt increasingly dissatisfied with her life and began to struggle significantly with her mental health. In 2017, Asha began her journey of self-discovery, departing from the corporate world, further pursuing her purpose in life to reconnect with her artistic practice and passion for the arts. 
Since 2017, Asha has emerged as an artist, dedicating her life to her creative practice. She is an active participant in the local art community, collaborating with local artists, frequently displaying her artwork in both local and regional exhibitions. She engages in service at local arts organizations and creates public murals which enrich the community. In June 2020, Asha had the opportunity to participate as one of 17 locals artists on the "Black Lives Matter!" street mural in front of city hall in downtown Cincinnati. She has also contributed to public artworks, designing a bourbon barrel currently situated near Pompilio's Italian Restaurant in Newport, Kentucky. From 2018 to 2019, Asha also served in a position as the gallery curator and coordinator at The Mohawk Gallery in Over-The-Rhine, Cincinnati, Ohio.  In February 2019, Asha curated "Manifestations of Time: The African American Experience" which contemplates how time has manifested within and informed the contemporary black experience. 
Similar to so many people during the pandemic, Asha struggled to navigate mental, emotional, and social adversities. Asha began to reflect on her mental health and challenged others to document their own through her "Moody Monday" painting series. She believes art is therapeutic, meditative, and restorative, therefore, can facilitate positive mental health through creative self-expression.